Guided tours
Prior reservation required: at latest one week in advance
Duration: 1 hour, shorter tours upon request
Number of participants: max. 15 persons per tour
(larger groups will be divided up)
Languages: German, English, French and Bavarian
All our guides have been specially trained. Type and subject matter of the guided tour as well as the respective guides respond to the composition and interests of the respective group. A guided tour for groups can also be booked outside opening hours if desired. There are special offers for guided tour for children and school classes.
Parking lots for buses, wheelchair access and a lift into the upper levels are available. Upon request, we will help you with finding a nice restaurant to suit your taste. In our m museum shop you will find a wide variety of attractive products related to hops and beer. To round off the guided tour, we would recommend you attend one of our exceptional beer seminars .
Gift vouchers for guided tours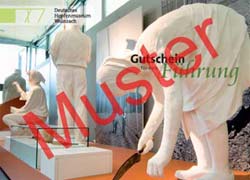 Why not treat someone with a gift voucher for a guided tour? The recipient can then arrange an appointment with us. Do not forget to include valid (free) tickets.