Insights into hop growing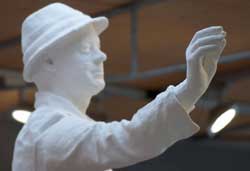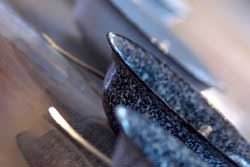 The portrayed working situations will provide an insight into the works around hops in former days. They are arranged in order of the seasons of a hop growing year:
First of all, the visitor interactively learns more about planting the rhizomes and about the difference between the single hop varieties.
A real "hop pole garden" forms the framework for the transition from pole yards to wire trellises. Historical film and sound documents will introduce you to the dangerous works of the builders of hop trellises. At a trellis puzzle, the visitor can try his or her talent as a "trellis builder".
Life-size copied figures give you an impression about the hardship of the numerous cultivation works that have to be done every spring. Visitors can take matters in their own hands again and try themselves at lifting out the poles or pruning the hop plants.
Rare old spraying machines and catalogues testify to the fight against pests and diseases. In documentary films, hop growers will tell from their experiences.
Atmospheric scenes in hop gardens and straw lofts, stories of old hop pickers as well as photo albums with pictures from the past bring the exciting days of hop picking to life again.
A true to the original copy of the "German kiln" demonstrates the importance of hop drying and the transition from air drying to hot air kilns.