From medicine to beer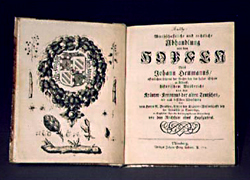 This book contains the first and oldest special instructions for hop growing. It was edited in 1759 by Johann Heumann, a professor of the University of Altdorf, and written by his son-in-law, Johann Tresenreuter.
For a long time, hops have only been used as a flavoring agent or for medical applications as sedative or laxative. It was quite common to brew beer with other plants like laurel, sage or lavender, or even other herbs hardly known today like Myrica Gale or Sermountain. Only in the Middle Ages, the habit of adding hops to the brew became widespread. In the Bavarian Purity Law, passed in 1516, water, barley and hops were officially confirmed as the sole ingredients for beer.
Still there was hardly any extensive trading with hops. Hops were only cultivated where they were needed for brewing, for example in areas like Hesse, Mecklenburg or Saxonia. In the 18th century, many sovereigns and scholars were standing up for intensified hop cultivation. They wanted to raise the people's prosperity and secure higher tax revenues for the state. Friedrich the Great of Prussia was one of the most ardent advocates of hops.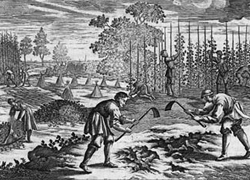 The engraving originates from the "
Oeconomus prudens et legalis
" of Florinus from the year 1702. This book was an important act of the so-called "hausvater literature". In the background you can see the traditional way of growing hops on poles.
However, only in the 19th century the stage was set. Traffic routes were developed and new means of transport like the railway were built. Production and consumption of beer increased immensely. The "abolition of serfdom" enabled farmers to use their own property independently. Now the time was ripe for hop growing and hop trading on a grand scale. Around the year 1900, the Hallertau, a region located north of Munich, became Germany's hop center. Ever since that time, the inhabitants' lives and thoughts have circled around hops. Since 1966, the Hallertau has been the world's largest hop producing area. The Hallertau's borders end where hops are not growing anymore.