Beer and chocolate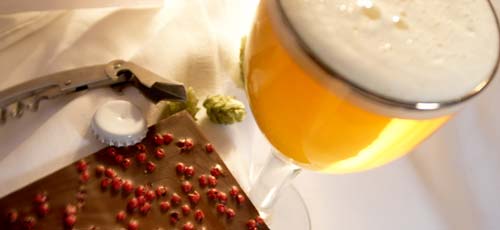 For those who love unusual delights to the palate, we offer the special combination of beer and chocolate. Immerse yourself in a totally new taste experience. Enjoy the best combination of premium beers from all over the world with finest Grand Cru chocolates, selected by a qualified beer sommelier. Extraordinary delights are guaranteed. You will just melt away.
Beer and chocolate – I beg your pardon? The unusual thing about this combination is its obscurity. In fact, nothing could be more obvious. Many beers as such already tempt the nose and palate with a fine chocolate aroma. Some beers even bear chocolate in their names. We want to show you that chocolate proves to be an ideal complement not only for these classics. The best of both worlds opens up the way for totally new creations.
Why do some beers taste of cocoa? What sorts of beer are best served with what kinds of chocolate? Where do the many flavors in beer come from? What is to be known about the production of chocolate, hops and malt? With this unusual taste experience we will reveal these and other (bitter) sweet secrets.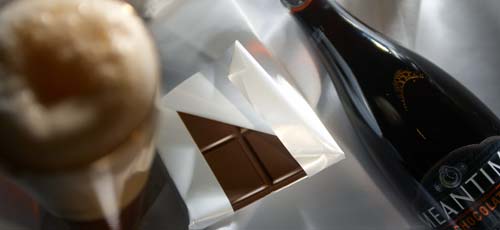 Further Information
What is well-known about other drinks is totally unknown about beer. But gradually beer enthusiasts all over the world discover that beer has far more to offer than canned drinks and Oktoberfest excesses. The world of hops and malt opens up unique culinary delights. The combination of selected beers with finest chocolates is a very special treat.
Like chocolate, beer and particularly its most important flavoring agent hops are not just bitter. The beer taster aims to explore color, aroma, taste and composition of the bitter compounds. The same is true for fine chocolates. Beer tastes can be extremely complex. And even more taste nuances can be created in combination with chocolate, often totally unexpectedly.